World outreach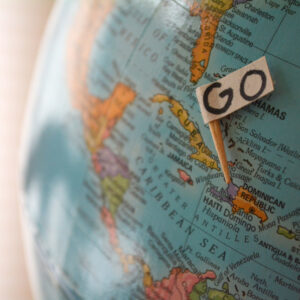 Our World Outreach Ministry is concerned with carrying out the challenge given by Jesus to go and make additional followers of ALL people. We have no geographical limitations; this work is both domestic and global in its involvement. Our vision is to "preach Jesus" in areas where the church is not well established. We will support an evangelist and cover the costs of the local congregation in its early years. We'll provide training and materials as needed to help local members evangelize their community. Our goal is to see these congregations firmly established in the Word, and self-sufficient financially.
We will not be content to simply "send money." When we support a work, we will be truly involved. We will send our people to participate; to train, support, and encourage. We'll get to know the members and as much as possible, intertwine their lives with ours. We will know them by name. We will hold the young congregation and its members in our hearts and prayers by keeping the McDermott family informed through regular updates.
Estonia
Can you find Estonia on a map? This Baltic country of 1.4 million people is a former republic of the Soviet Union gaining independence in 1991 and is now part of both the European Union and NATO. It is one of the most successful post-Soviet economies. It is also home to two congregations of the church of Christ due to God's blessing and the efforts of the McDermott Road congregation.
Nicaragua
The Biblical Institute of Central America (BICA), one of three programs in Central America, is located in Jinotepe, Nicaragua and is a school designed to train "evangelists." Some students become preachers and some do not. Both men and women make a two-year commitment to live at BICA. Most are single, but married couples join the program as well.
South Texas / Mexico
South Texas is one of the most bountiful areas of our country being rich in produce and Hispanic culture. The Rio Grande Valley in Hildalgo County is the center of this great agricultural belt and is home to several Hispanic congregations that have been started and supported by our McDermott family. With "The Valley" being our closest geographic mission point, our members have many opportunities to serve hundreds of local residents and participate in a variety of settings.
Haiti
The church of Christ on McDermott Road began to support the work of Hope For Haiti's Children in 2018.  The mission of HHC is demonstrate compassion to poverty-bound Haitian children and their families, providing opportunities for these children to become leaders in their homes, churches, and communities.  We support 2 Christian Orphanages, that provide schooling, meals, and training of life skills that can be used after finishing school.  We also assist 10 schools that provide a quality education as well as teach the bible and provide hot meals.  Churches of Christ also meet at each of these schools on Sundays.  Many of our members are involved in individual child sponsorships to keep these children in school.
World Bible School
World Bible School is one of the most proven, cost-effective means of equipping Christians to fulfill the Great Commission. This web based on-line ministry has taught millions of truth seekers across the world by mobilizing tens of thousands of everyday, volunteer Christians.